XB Tag Suspension
A tag axle allows for increased GVWR, enhanced maneuverability and superior handling.
ZF Tag Suspension
10,000 – 20,000 lbs.
Thanks to its modular design, the ZF axle systems allows for tailored axle configurations, depending on the installation environment. The independent suspension allows for active or passive steering; steered axle systems increase a coach's maneuverability, enabling much smaller turning circles and reducing tire wear, while ZF's passive tag axle features steering dampers and pneumatically activated lock cylinders. For active rear axle steering, ZF's RAS/RAS-EC systems are the perfect solutions.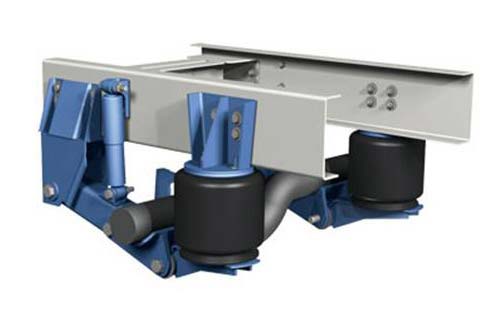 More than just an "add-on" to handle more weight, the Neway Tag Axle is designed to be integrated into the overall chassis and braking system, enhancing overall stability and providing consistent braking.
Additional payload capacity – up to 47,000 lb. GVWR
Longer floor plans – the tag axle accommodates floor plans up to 45 feet for more space and design options
Automatic load proportioning system – an industry first – distributes weight proportionately across all three axles to ensure a smoother, more comfortable ride and decrease tire scrub during low speed and back up
CAD-designed coupling plate provides superior strength in high-stress areas
Five-year, 100,000-mile coolant is pre-charged with SCA
Air-disc brakes with ABS dramatically decrease stopping distance in virtually all braking conditions, while minimizing fade during rapid or extensive application of the brakes
UltraSteer®
Handling Luxury with Precision.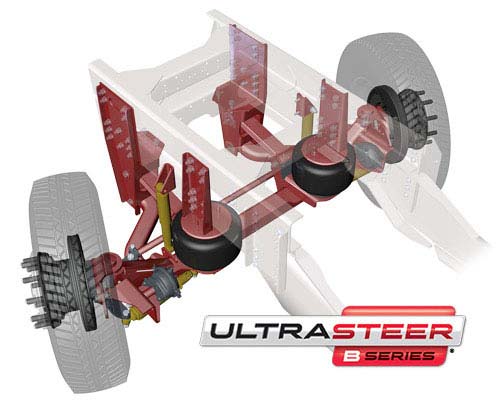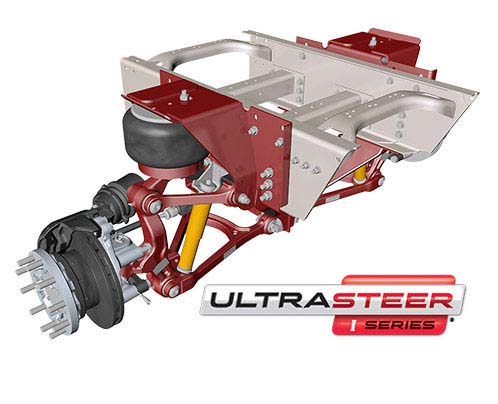 As the first line of tag axles that are fully-integrated and precision-tuned to react to turns and maneuvers of the coach, UltraSteer establishes a new standard for premium ride and handling.
Features
Auto-Locks to straight @ 20mph and in reverse for complete control
Flexible coach packaging for increased storage options
QuickAlign and optimized rubber bushings increase suspension life and reduce maintenance
Compatible with disc and drum brakes
Increased Maneuverability
Significant reduction in curb-to-curb turning radius
Remarkably tight turning angle
Improved Ride & Handling
UltraSteer's outboard-mounted design is more reactive to roll input than inboard-mounted shocks, which improves handling in turns and maneuvers such as sudden lane changes
Wide track suspension arms provide increased lateral stiffness over narrow track suspension arms, improving handling and safety (B-Series)
Tire Savings
In contrast to rear mounted tie rods that can still cause tire scrub, the UltraSteer's forward-mounted tie rods and correct steering geometry enable the inside wheel to have a 12° turning angle and follow the ideal turning path—eliminating tire scrub
Options
B-Series

A straight beam axle and wide track suspension arms provide increased lateral stiffness, delivering improved handling and safety in turns and sudden maneuvers while offering OEMs flexible floorplan options.

I-Series

An independent suspension on the tag axle provides enhanced overall ride quality and stability, with a comparable weight capacity and turning angle to the B-Series.
| | B-Series | I-Series |
| --- | --- | --- |
| Ride Quality | Good | Best |
| Roll Stability | Good | Best |
| Side to Side Stability | Good | Best |
| Weight Capacity (GVWR) | Best | Best |
| Turning Angle | Best | Best |
| Coach Packaging | Best | Good |