X-RideTM Rear Suspension
AT THE INTERSECTION OF INNOVATIVE DESIGN AND UNPARALLELED MANUFACTURING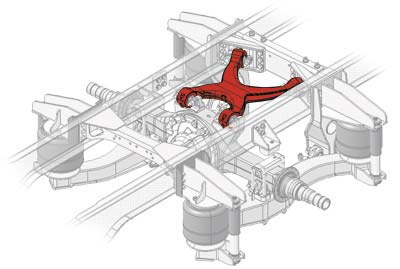 The 23,000lb X-Ride suspension brings a new level of design, technology, and capability to the world of commercial bus chassis. Unlike any other suspension on the market, the X-Ride – offered exclusively on the XB series chassis from FCCC – combines two superior design elements: a four-point link and a four-bag suspension.
Individually, these elements offer commercial bus operators great functionality and flexibility. Together, they offer a higher capacity for mid-size coaches and form the foundation of the X-Ride suspension from FCCC.
4-POINT LINK
KEEP YOUR COSTS DOWN
The X-Ride's 4-point link integrates the separate functions previously performed by the trackbar and the stabilizer bar. As a result, the X-Ride fulfills all of the familiar roll-stabilization requirements, including axle control even in extreme driving conditions, leading to increased ground clearance and decreased overall system weight.
In addition, the X-Ride's 4-point link significantly improves vehicle safety over the performance range and life of the chassis while offering simplified and streamlined operation.
Fewer individual components
Weight reduction
Maintenance-free
Increased space for body installation
Improved ground clearance
4-Bag Suspension
TRAVEL IN SAFETY AND COMFORT
The most significant advantage presented by the rear axle system of the X-Ride and its 4-bag suspension is significant weight reduction, allowing for increased passenger capacity. The total axle system weight, including all suspension elements, has been reduced to less than 2,200lbs total – without compromising ride quality and durability.
The reduction in unsprung mass ultimately results in improved ride comfort. The reduced pinion standout allows longer prop shafts to be used, thereby reducing the articulation angles of the suspension's U-joints. This, in turn, reduces the noise level from the suspension while an overall wide stance produces better balance, stability and performance, as well as improved longevity of the driveline.
Overall weight reduction
Improved ride comfort
Noise reduction
Reduced articulation angles
Lowered maintenance costs
Usage of longer prop shafts