DetroitTM Front Axles
8,000 – 12,000 lbs.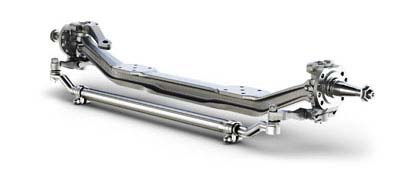 For over 70 years, Detroit Diesel Corporation has developed a legacy of reliability and efficient performance. These qualities have been transferred to steer and drive axles, the components that shoulder your load day in and day out. Detroit axles combine advanced design features and state of the art manufacturing processes and are designed specifically for FCCC chassis.
For the tightest turning radius and maximum maneuverability, the unique design of the Detroit steer axles' I-beam and tie rod arm offer up to a 50° wheel cut. And by using needle bearings that roll against the kingpin instead of bushings that rub, they increase durability while reducing maintenance needs.
By integrating the differential case and ring gear, Detroit drive axles allow room for a larger and sturdier differential. The ring and pinion gears are precision machined using a power dry cutting process, resulting in better mesh for less noise and a longer life. Lightweight design means higher payload and freight efficiency.