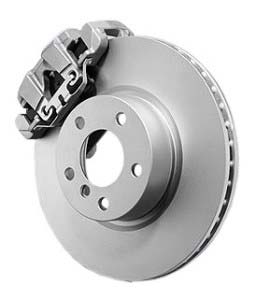 Hydraulic ABS and 15-inch Bosch® Pin-Slide Disc Brakes
WABCO® hydraulic four-channel ABS disc brakes are built to make stopping heavier loads easier with increased heat resistance and decreased brake fade and wear. They deliver reliable, uniform stopping power and better steering control during emergency situations. The Bosch® pin-slide design reduces maintenance time, keeping your vehicles on the road longer.
Bendix® Air Disc Brakes*
The state-of-the-art Bendix® air disc braking system delivers the ultimate in safety and reliability. You will feel especially secure when descending hills and steep mountain grades. When your foot applies the brakes, they will perform as expected, and you will be in complete command of your bus.
Shorter stopping distance compared to drum brakes
Reduce fade and squealing, as they dissipate heat more effectively than drum brakes
Easier maintenance
Meritor Q Plus® Air Drum Brakes
Meritor Q Plus® Air Drum Brakes offer better stopping power for heavier loads due to additional torque and consistent pressure. Any loss of pressure will activate the air brakes, eliminating the risk of brake failure and making them safer by design than standard hydraulics.
*Available w/ Airliner Air suspension only