Hendrickson SOFTEK® Front Axle
10,000 – 12,000 lbs.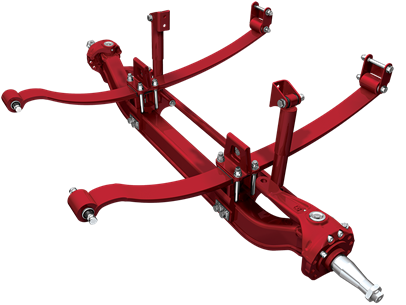 The advanced spring design of the Hendrickson SOFTEK integrated front mechanical suspension and steer axle system produces increased roll stability during cornering and crosswinds, creating a more stable platform. Utilizing a system approach, Freightliner Custom Chassis Corporation and Hendrickson worked together to optimize the SOFTEK system for bus chassis applications to deliver enhanced ride, stability and handling characteristics while reducing weight and maintenance.

Proven Durability

Tested and proven in heavy-duty applications
STEERTEK NXT Axle – The box-shaped cross section resists horizontal, vertical and twisting forces more effectively than traditional I-beam axles. Continuous beam architecture minimizes stress points for added durability.
Enhanced clamp group – innovative design distributes pressure around entire axle section for a secure, reliable axle connection
Reduced Maintenance
Spring and rear shackle bushings – heavy-duty design for maintenance-free operation
Two-piece knuckle assembly – allows for easy disassembly of knuckle without removing kingpin
Weight Savings
The SOFTEK suspension, combined with Hendrickson's STEER NXT formed and robotically welded axle, weighs less than traditional forged axle and steel spring designs.
Enhanced Ride and Handling
Heavy-duty parabolic leaf spring – optimized two-leaf spring design and premium shocks result in an outstanding ride
Jounce bumper – integrated design enhances a smooth and comfortable ride
Optimized steering system performance – delivers an industry leading wheel cut of up to 55 degrees, resulting in a tighter turning radius and outstanding maneuverability
For more information on Hendrickson SOFTEK® front axles, take a look at their brochure.