DAIMLER HERITAGE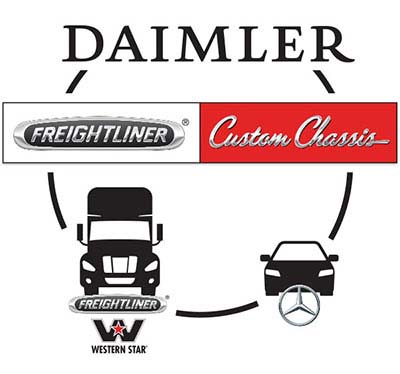 Established in 1995 and trusted by some of the most respected names in the RV, walk-in van, commercial bus and school bus industries, Freightliner Custom Chassis Corporation (FCCC) is a leading manufacturer of premium vehicle chassis. As part of the Daimler family, Freightliner Custom Chassis shares the heritage and engineering excellence of Freightliner and Mercedes-Benz – leveraging expertise in heavy-duty durability and precision performance to infuse each of our chassis with the best of all worlds.
Located in Gaffney, South Carolina, FCCC employs more than 650 employees in our manufacturing, customer support and retail facilities. As the world's largest manufacturer of diesel walk-in van chassis, nearly two-thirds of all diesel walk-in van chassis sold today are made by FCCC. We also hold more than half the market in Type A diesel motor home chassis and more than a quarter of the market in conventional school bus chassis.
At FCCC, we recognize that our goal of building market-leading chassis cannot be realized without a thorough understanding of – and response to – our customers' needs. We deliver superior performance, safety, reliability and customer support based on a wealth of in-depth knowledge and resources, because as we always tell our customers, we're proud to say we're Driven by You.