S2C Rear Suspension
Rear suspension not only defines ride and handling – it determines how much weight your vehicle can carry.
DetroitTM Rear Axles
13,000 – 23,000 lbs.
Backed by many years of manufacturing expertise, Detroit™ axles provide market-leading performance and value. An integrated one-piece differential in these rear axles offer greater stability and durability, with a smaller ring gear size for reduced weight and higher payload. Precision cut gears allow for a quieter axle and better gear mesh for driving comfort and durability.
Meritor Single Rear Axles
15,000 - 23,000 lbs.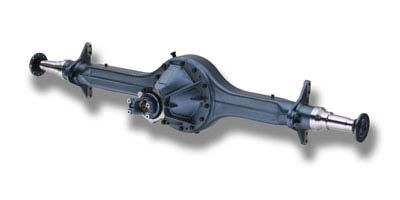 Meritor's proven designs are combined with high-strength engineered materials to provide excellent performance and durability.
Gearing and axle shaft designs are matched to deliver cost-effective, dependable functionality
Gearing options provide long life and increased durability
Precision-forged differential gears provide maximum strength and shock resistance
Rigid differential cases support precise gear alignment and durability
A wide range of axle arrangements and housing bowl positions allow customization and packaging flexibility for manufacturers
The widest range of gear ratios available enable manufacturers to choose axles to fit their desired fuel economy, greater torque or maximum traction
Available two-speed hypoid axles offer additional traction as needed
Versatile, high-quality components ensure quiet operation and ease of service
Lightweight aluminum carrier casting options deliver additional payload capacity and fuel economy
Optional Driver-Controlled Differential Lock (DCDL) provides superior traction and spinout protection in slippery conditions
Hendrickson Spring Suspensions
52" Variable Rate Multi-Leaf
12,500 – 23,000 lbs.
52" 2-Stage Taper-Leaf with Rubber Helper
18,000 – 23,000 lbs.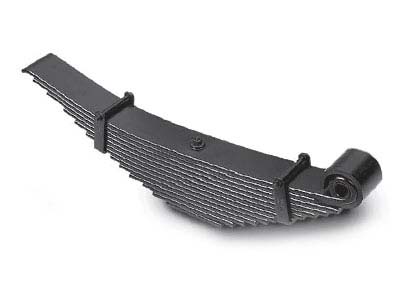 Hendrickson is committed to developing products that serve to improve efficiencies for the transportation industry and deliver advanced, reliable and cost-effective technologies. Their unique approach to leaf spring manufacturing has revolutionized its performance, reducing weight by as much as 70% over conventional designs while improving performance and durability. Rugged and efficient, each product adheres to Hendrickson's strict design and quality standards.
For more on Hendrickson suspensions, take a look at their brochure.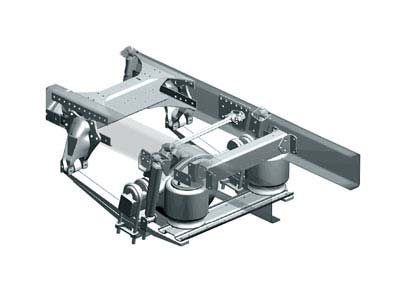 Airliner® Air Ride's ingenious, no-maintenance design saves weight and operating costs while superbly cushioning you, your vehicle and your load.
Compared to steel suspensions, the AirLiner delivers greater comfort and, consequently, provides better handling and protection for the load.
Because the AirLiner suspension systems has substantially fewer parts than competing systems, they offer greater reliability and need less servicing attention in the long run.
They require no lubrication, which means little or no routine maintenance.
Resale price comparisons prove that trucks equipped with air ride suspensions command a higher resale value versus trucks equipped with standard spring suspensions.
AirLiner's proven combination of trailing arm leaf springs and self-leveling, rolling-lobe air bags provides a uniformly soft spring ride, smoothing the ridges and filling the ruts like only a premium air suspension can.
The AirLiner is also designed to reduce sway when turning or negotiating curves, further providing superb ride and handling.
Elastomer bushings that insulate your profit margin.
Elastomer bushings ensure that the metal parts of the AirLiner suspension won't rub together, resulting in longer product life. And since there's no wear surface to lubricate or replace, the AirLiner performance is never compromised—leading to a continued comfortable ride and a very comfortable bottom line.
A height-control valve that keeps drivelines in line.
To produce the relatively constant spring rate necessary for optimum cushioning performance, an air ride suspension must maintain a relatively constant ride height. AirLiner utilizes a premium rotary valve to fulfill this height-control function. Why a rotary-type valve? Because the efficiency of a conventional, rubber-seat valve can deteriorate with age, altering not only the spring rate but also the driveline angle, possibly shortening the driveshaft life.
Suspensions that aren't afraid of the scale.
AirLiner air ride suspensions are lightweight champions. These suspensions are naturally lean because there are fewer parts to begin with. And they feature aluminum brackets on all but the 23,000-lb. models.